The PMSA003A dust sensor can be found on Ebay for around $20 USD. Based on the datasheet, it is a laser based sensor that is capable of measuring particles as small as 0.3 micrometers.
Related and probably older dust sensors in this family include the PMS7003, PMS5003, and PMS1003.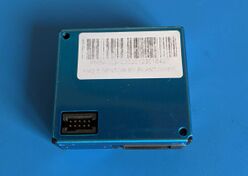 The PMSA003A uses a 1.27mm 10 pin header. This header is smaller than the usual DIP header (those are 2.54mm). Be aware that some sellers do not sell the sensor with an adapter board or the female header which makes using this module incredibly hard to do if you don't have this header.
| Pin | Function | Description |
| --- | --- | --- |
| 1 | Vcc | 5v |
| 2 | GND | Ground |
| 3 | SET | Setting pin / TTL level @ 3.3V |
| 4 | RXD | Serial receiver pin / TTL level @ 3.3V |
| 5 | TXD | Serial transmission pin / TTL level @ 3.3V |
| 6 | RESET | Module reset signal / TTL level @ 3.3V |
| 7 | NC | |
| 8 | NC | |