Media Player Classic Home Cinema
From Leo's Notes
Last edited on 30 December 2021, at 01:59.
Loading multiple subtitles
[
edit
|
edit source
]
Media Player Classic can display up to two different subtitles at the same time. This can be accomplished by installing VSFilter and using both the Internal Subtitle Renderer and VSFilter to render subtitles.
Because of how MPC works, VSFilter can only display a different subtitle if the subtitle is external. For videos with only embedded subtitles, you will need to extract the second subtitle with a program like MKVCleaver then load this extracted subtitle with VSFilter. Otherwise, the subtitle VSFilter will show will be the same subtitle that is selected for the Internal Subtitle Renderer.
Download and install VSFilter from https://nightly.mpc-hc.org/mpc-hc_apps/vsfilter/. After installation, enable VSFilter by going to Options -> Advanced, then disabling 'BlockVSFilter':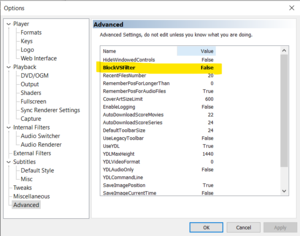 Configure VSFilter. Override the placement so that it's not overlapping the subtitles generated by the internal subtitle renderer.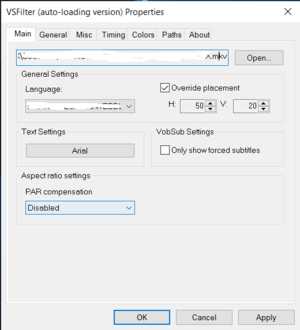 When playing a video, select the first subtitle (rendered by the Internal Subtitle Renderer) via Subtitle Track ->. Select the second subtitle (rendered by VSFilter) via Filters -> VSFilter (auto-loading version) -> video_subtitle.srt.
Remember, you can only load a second subtitle if it is external. If your subtitle isn't listed, load it via File -> Subtitles -> Load Subtitles....